Inventions, Designs and Patents
There would be very few people indeed who have devoted as much time as Bruce J Reilly in researching and engineering innovation in the quest to overcome inherent wheel alignment and balancing problems in the automotive industry, particularly in heavy transport and the 4WD sector.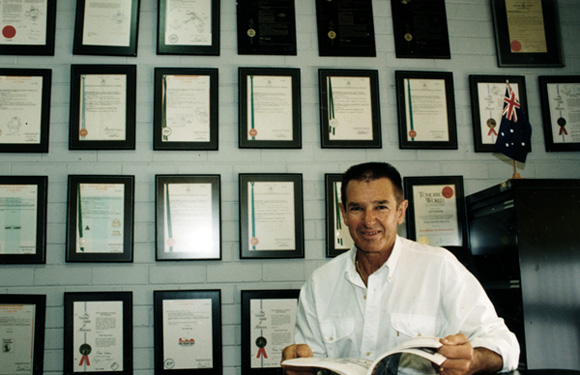 The recipient of countless awards in recognition of engineering excellence, innovation and business management during the past 35 years, Bruce believes it's the challenge to make life a little easier on the technician – by developing systems, tooling and components that will do the job, together with the satisfaction of knowing the job is going to be right and the problem solved – that makes it all worthwhile.
Bruce diversified from a highly qualified marine engineering career to professional and specialist engineer in heavy-duty alignment services.
Designing for Critical Alignment Conditions
With the entrance of the radial tyre into the marketplace, truck and 4WD wheel alignment was an emerging industry service. These new and expensive tyres were fast growing in popularity and required more critical alignment conditions, with radical differences in camber and castor.
With the growth of the transport industry and the growing popularity of 4WD vehicles, Truck Align grew to include alignment services to all vehicles. Commercial vehicles, small trucks and 4WDs were all discovered to have shortcomings of minimum adjustment availability in relation to critical alignment criteria at both the front and rear end. Even today, many popular car models have minimum means of adjustment.
A small stable of innovative adjustment fixes was developed for cars, 4WDs and commercials. A constant, however, was the research for new and novel adjustment designs in equipment and axle correction machinery to meet the ever-changing trends in alignment criteria and geometry specifications of imported vehicles.