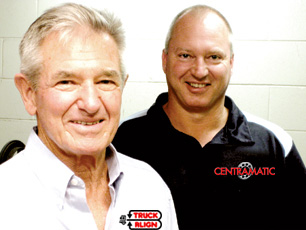 Father and son team Bruce J. Reilly (senior) and Bruce S. Reilly (junior)
Welcome to Truck Align and Centramatic
As principals of the organisation, we have been specialising in vehicle wheel alignment and balancing products and services in Australia and internationally since 1977.
Collectively, we have over 60 years 'hands on' experience in the Heavy Vehicle Alignment / Balancing / Axle Correction / Heavy Repair Industry.
The recipients of countless awards in recognition of engineering excellence, innovation and business management, we hold many professional patents for parts and equipment developed by the company.
We are proud to have dramatically improved tyre life, vehicle handling, safety and road holding capability on over 180,000 vehicles. In our wheel alignment efforts, we conservatively estimate we have saved over 16,000 tonnes of rubber!
With our quality products, experience and expertise, your satisfaction is guaranteed.